Compliance Networks announces rCMS Foundation, the latest in vendor compliance solutions for retailers. rCMS Foundation provides on-demand vendor compliance solutions that retailers can have implemented in 30 days or less.
Compliance Networks, the leading provider of profit recovery solutions since 1999, now offers a phase one approach to vendor compliance optimization. Retailers can implement Foundation in 30 days or less to streamline their supply chain operations through the elimination or recovery of avoidable supply chain costs.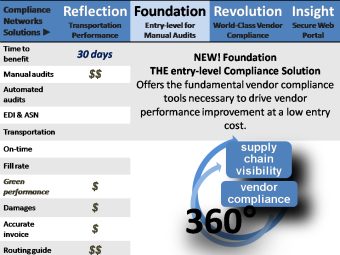 Today, retailers are capturing this data in PC-based spreadsheets and databases. In 30 days or less, we will get that data off the desktops and consolidate it, automate charge calculations and processing, and provide meaningful visibility for the extended retail supply chain.
On-Demand vendor compliance and supply chain visibility solution
No hardware or software to purchase or maintain
Creates cost recovery via distribution center problem shipments and manual audits
Solution is limited only by the amount of data provided
Solution evolves as customer's vendor compliance program evolves
Built on the same technology that drives Compliance Networks highly-successful Retail Compliance Solution
Robust Features
Best-in-class Vendor Compliance Optimization (VCO) solution
Cost recovery creation and dollar calculation derived from customer vendor manual
E-Mail alerts with supporting documentation and photos for supply chain failures
Distribution center trouble management  system
Unlimited manual audit entry forms (DCs, corporate offices, 3pls, stores, etc.)
Vendor analysis and reporting capabilities
Automated emailing of vendor scorecards
Automated charge file transmission to accounts payable
Web portal for compliance activities
Big Value for a Low Cost
Expense control:  Vendors are charged with cost recovery for not following requirements
Behavior change: Vendors begin to follow the rules when failures are brought to their attention
Improved profitability: Supply chain improves as vendors improve, if vendors do not improve the cost recovery offsets the added expense to do business with them
Single source, single tenant database for compliance information
Low risk opportunity delivered in less than 30 days
Perfect solution to replace Excel or Access based solutions or for introducing a compliance program for the first time
Limited requirements from customer IT staff