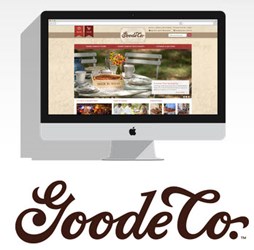 Goode Company, a Houston TX-based restaurant chain and online retailer sells the finest line of prepared food, apparel, books, gifts and "cookin' tools." The company needed an end-to-end ecommerce platform that could meet its unique industry requirements. Goode Company also wanted a quick and risk-free implementation ahead of the holiday season. Additionally, the company didn't want to invest in an expensive on-premise system that required constant re-programming or IT involvement but one that could scale as the business grew.
The Challenge
Goode Company had been experiencing growing pains with its legacy open source eCommerce platform, and had found that even with extensive custom programming and abundance of third party plug-ins, the system could only handle about 50% of the functionality they now required. With two failed implementations in 3 years, the company's management team was very frustrated. These software issues cost the company a lot of time, money, and the opportunity to capitalize on the booming ecommerce trend.
Download the full case study below to learn more.