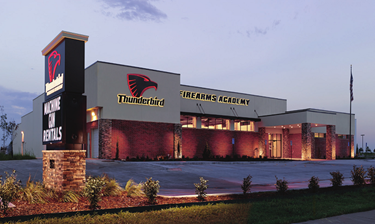 Hunting enthusiasts across Kansas have long known Ryan Pennock from appearances on the waterfowl hunting TV show he used to produce called Team DuckZone. But Pennock's passion is working with people personally on an individual basis, and his real dream was to build and operate a state-of-the-art shooting range and training center. Knowing it would be an arduous journey, Pennock conducted extensive research on what it would take to succeed and then risked it all, borrowing money from family and even cashing in his own 401(k) to live his dream.
Beginning in 2008 with just 1000 feet of retail space stocked with a handpicked selection of firearms, Thunderbird Tactical became the second largest gun store in Wichita in just over two years. Attracting the best firearms trainers in Kansas, Pennock continued building his business and reputation until he collected enough resources to realize his dream.
Download the full case study below to learn more.