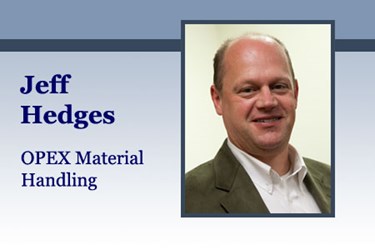 A Q&A with Jeff Hedges, president, OPEX Material Handling.
Order fulfillment is critical to the overall customer experience. How does goods-to-person (G2P) picking ensure long-term customer satisfaction?
E-commerce companies have two key challenges. They must provide a rewarding customer "experience" throughout the buying process and build customer loyalty. However, there are really only two opportunities for e-commerce companies to do this in contrast to a brick-and-mortar shopping experience. The first is the experience on the website itself. Making the buying experience easy and enjoyable for the customer to browse and place their orders is key. The only other opportunity for customer interaction is when the order is delivered. Goods-to-person picking, especially robotic goods-to-person picking, assures not only that the correct item is picked and placed with the correct order, but that it is fulfilled in a timely fashion thereby assuring a positive brand experience and building customer loyalty.
Please log in or register below to read the full Q&A.