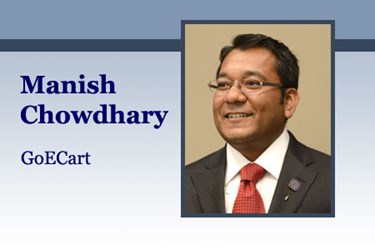 By Manish Chowdhary, CEO, GoECart
Social sharing is now a major driver of online commerce, thanks to widgets that let customers share, like, and tweet content across their own networks. Enabling social sharing provides your business with free branding and endorsements, customer engagement opportunities and most important, increased sales.
Social media increased its share of e-commerce referrals nearly 200% between the first quarters of 2014 and 2015, according to multichannel commerce platform provider Shopify, which analyzed data from 37 million social media visits that led to 529,000 orders. Facebook accounts for 50% of total social referrals and 64% of total social revenue; the social network has the highest conversion rate for all social media ecommerce traffic at 1.85%.
While Facebook dominates, other social networks are making an impact as well. For instance, Shopify found that orders from Reddit increased 152% in 2013. And community style site Polyvore is generating the highest average order value ahead of Facebook, Pinterest and Twitter. Instagram is generating higher average orders than those same sites even though the only clickable links in Instagram are those in profile bios.
Please log in or register below to read the full article.