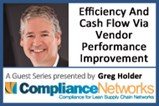 By Gregory S. Holder, Compliance Networks
Catch up on Part One here.
Vendor Compliance Review
For year's retailers have used vendor requirements documents to communicate purchase order terms and conditions and shipping requirements to their vendor community. Included in these requirements are penalties when certain requirements are not met. This penalty is commonly referred to as a chargeback or expense offset. Retailers generally deduct the value of the penalties from vendor checks upon vendor invoicing and include a cryptic message on the remittance advice. The purpose of the penalty is to attract attention to a problem, recover unexpected costs and to facilitate behavioral change. Vendor requirements documents exist to help normalize receiving and order processing activities for both retailer and vendor and help reduce supply chain variability.
Best-in-class Vendor Compliance Programs
A previous article discussed the seven steps to implement a vendor compliance program as well as internal rejections to getting a program off the ground. In general, vendor compliance programs should be evolutionary and not revolutionary. Just like any successful retailer who continues to look for areas of opportunity to improve, the same should happen with a compliance program. Best-in-class programs are centered on three key areas: People, Process and Technology.
People: People exist to collect information (think DC and corporate audits), create and update vendor requirements to support company strategy, and manage the program in general, as well as relationships between vendor/retailer operations, and retail buyer and vendor seller.
Process: Engineered data collection, DC processing, problem identification, and resolution and any and all methods for acquiring supply chain data both manual and automatically.
Technology: This is the hardware and software integrated with the people and process to close the look for a complete vendor compliance program. More mature programs will have more automation, depths and breadth than a program in its infancy.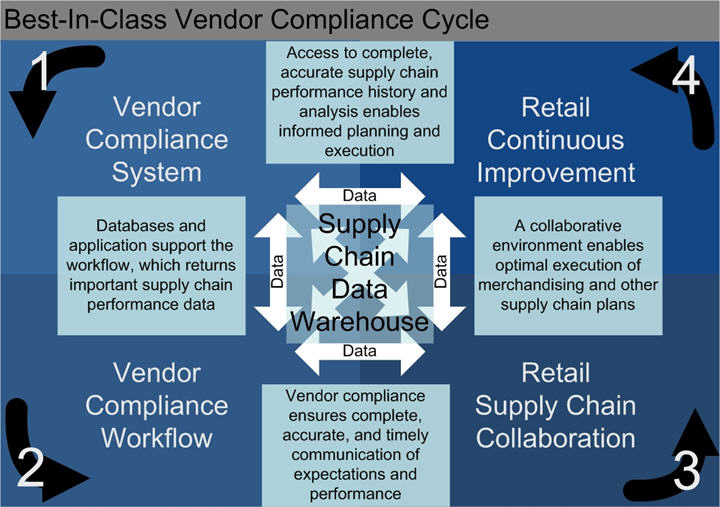 Typical Stages of Vendor Compliance Programs
Over the last thirteen years we have seen hundreds of programs in differing degrees of maturity. As such we have identified ten stages of vendor compliance programs. In presentations when we discuss this most people in the room begin to discuss which stage their program is in. As you read through the list, decide which stage your company is in. It might just be a fun exercise.
Denial: Company does not believe there is a vendor compliance problem or the problem is not as bad as presented. Resolving vendor problem shipments have become standard operating procedure at the DC. They are good at it and have been doing it for years, but it is costing you millions in hidden labor costs.
Conception: Started by intelligent, frustrated, yet aggressive DC executives tired of dealing with the same vendor problems day after day. Vendor requirements guideline created.
Creation: Manual program of identifying problems, writing paper-based chargebacks in two part forms, filing one and mailing the other to accounts payable. Characterized by errors and labor costs, but does create charges to offset some of the unexpected hidden labor costs.
Excitement: The finance and logistics departments love the chargeback dollars created by the program but the company is still not committed to the program. The