ABOUT US
Lucas Systems is the leading provider of mobile work execution solutions for distribution logistics. Our solutions improve hands-on processes and workflows to help people work smarter and to dramatically improve distribution and fulfillment efficiency. Customers using Jennifer mobile applications from Lucas average 36 percent gains in picking productivity, and even DCs with 99 percent accuracy typically reduce errors by 50 percent or more.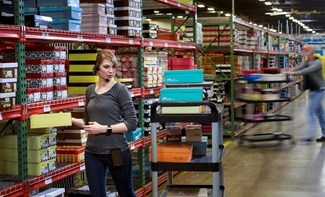 Whether you are a global retailer or a fast-growing e-tailer, our goal is to exceed your expectations by helping you to optimize fulfillment operations across channels and around the world. We make an extra effort to uncover hidden operational challenges and we actively look for creative solutions to deliver the best possible results for your business. We do that by focusing on how our solutions impact the day-to-day work of managers, supervisors and hourly associates, and by incorporating the latest mobile technologies – including rugged smartphones and other wearables – in our solutions. That's one reason we have been the leading innovator of voice and mobile applications for the supply chain since 1998, with an intensely loyal, committed customer-base ranging Fortune 50 retailers to single-site distributors.
CONTACT INFORMATION
Lucas Systems, Inc.
11279 Perry Highway, Suite 400
Wexford, PA 15090
UNITED STATES
Phone: 724-940-7000
Fax: 724-940-7001
Contact: John Schriefer
FEATURED ARTICLES
Adapting Retail DCs To Support Omni-Channel Fulfillment

This is the second in a three-part series of articles describing how retailers can adapt their fulfillment and returns processes to address omni-channel needs using Mobile Work Execution software which complements existing information systems. This article focuses on DC-based processes while the third and final article will discuss in-store processes.

Best Practices In Warehouse Operations: Mobile Technology

Learn more about barcode scanning and voice, touchscreen usage, multi-modal voice hardware, and key developments in mobile technology in the warehouse.

Buyer's Guide For Mobile Computers For Warehouse Operations

DC managers and IT teams have more options than ever when selecting mobile computers for use in their facilities, both for mobile management applications, as well as for hands-free, voice-directed mobile applications used by floor associates. While management apps are now routinely used on iPads and other general purpose tablets, mobile worker applications are still predominantly used with traditional warehouse bricks (or handhelds/guns) and wearable computers, as well as voice-only appliances that are used for old-school voice picking.

The Missing Link In Omni-Channel Fulfillment: Mobile Work Execution

For success in omni-channel retailers have to deliver the right product at the right time, through multiple channels, at the best possible cost. This places all-new demands on stores as fulfillment and return points, and creates new pressures on distribution centers (DCs) to adapt their existing fulfillment and returns processes. Many retailers are meeting the challenge through manual work-arounds that are unsustainable. This three-part series will focus on how retailers can optimize and evolve manual processes, both in the DC and in-store, using Mobile Work Execution solutions.

Hardware Co-Op Builds Better Service With Lucas Systems

Do it Best Delivers More Accurate, Efficient Order Fulfillment with a Lucas Mobile Work Execution System Featuring the Jennifer™ Mobile Multi-Modal Picking Application.

Mythbusting In The Warehouse: Three Things To Know About Voice-WMS Integration

One of the first things people ask when investigating voice picking and other mobile applications for their DC is "how will the new applications work with my existing systems?" This paper addresses three of the common myths and misperceptions about adding new mobile applications to existing host or warehouse management systems (WMS).

Warehouse Mobility: Beyond Voice And RF

A new class of mobile work execution solutions is transforming warehouse operations by shattering the distinctions between RF/barcode scanning systems and voice-picking applications. These smart warehouse apps combine voice direction, speech recognition, device displays, and barcode scanning to optimize hands-on warehouse tasks. They enable process and workflow innovations that drive new levels of accuracy and productivity above and beyond what was possible with earlier voice-only or scan-only systems.

Best In Show Distribution At Pet Supermarket

Pet products retailer keeps growth on track without adding staff or expanding its DC.

Voice Picking Kicks Off Fulfillment Overhaul

Rapid store expansion prompts The Container Store to implement DC changes that boost productivity nearly 15%.